Forthcoming events that Community Energy England is organising or involved in are listed below.
You can view previous Community Energy England events here.
If you are interested in other community energy and related events taking place across the country, please see our Members' & Friends' Events page.
We are observing updates with the Coronavirus outbreak and have already held several successful online events. We look forward to future in-person events but until that's possible, we will keep developing our events plan and making the most of online opportunities.
An information and discussion session with Energy Systems Catapult.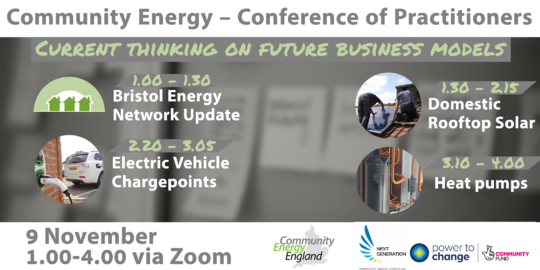 Current thinking on future business models.
If you are a community energy practitioner, join Community Energy England and Next Generation programme partners to exchange practical learning on emerging new post-FITS business models, drawing on experience from Power to Change's Next Generation programme and other innovative community energy projects.
Community Energy England is partnering with Solar & Storage Live, the UK's largest renewable energy event, to deliver a Community Energy Forum which will take place as part of their event at the NEC in Birmingham. Please note this event has been moved from September to 2-4 December 2020.