Community Energy England and Community Energy Wales have teamed up again to deliver the 2019 Community Energy Awards.
A variety of sponsorship opportunities are available.
The deadline for submissions is 8 July. Short-listed entrants will be invited to submit a more detailed nomination on 15 July. The ceremony will take place on the evening of 18 October at City Hall, London. Book your place to attend here.
Nominations for the Community Energy Photo Award must be sent to awards@communityenergyengland.org along with...
The name of the photographer.
Details of what was shot.
Why the image captures the essence of community energy.
Permission from the photographer or owner of the photograph for CEE to use the photograph in publicity, marketing and promotional materials including online and social media whether or not it is the final winner.
Good luck with your nomination.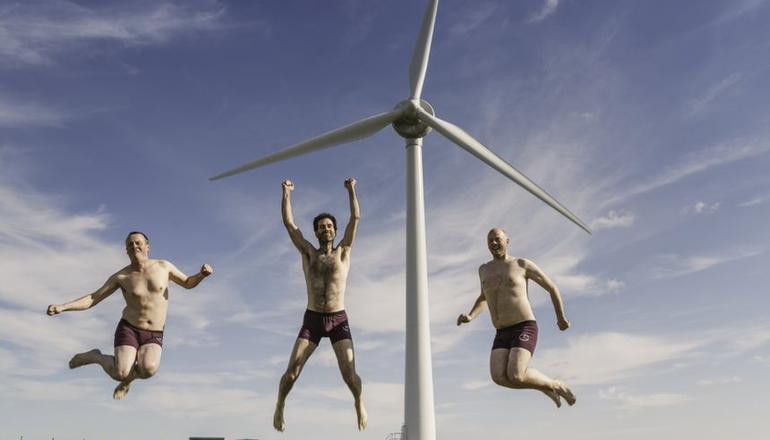 The 2019 Community Energy Photo Award Winner - 'YnNi Teg - Powered by Wind'. Photo credit - Flashbulb Photography & Film.
Award winners will receive
An award trophy and certificate
Addition to the Community Energy Awards Hall of Fame
Official awards stamp for their website
A case study will be produced about them and distributed to the media
Award categories
We have two new awards for 2018
Environmental Impact Award - The project which has produced the most outstanding environmental improvement within their community.
Social Impact Award - The community organisation who has used energy as a mechanism to make the widest reaching improvement of lives in their community.
Existing award categories
Community Renewable Energy Project Award - The most outstanding renewable electricity generation project undertaken by a community group. Organisations nominated for this award must be members of Community Energy England or Community Energy Wales.
Community Energy & Carbon Saving Award - The community group which has undertaken the most inspiring energy conservation and/or management project
Local Authority Award - The Local Authority which has done most to help local community energy organisations through partnering, investing, policy or other support
Collaboration Award - The most commendable collaboration between community and commercial / public / third sector partners
Community Energy Finance Award -The community group and/or its funders and advisers, which have achieved the most impact through a range of financial instruments/mechanisms, through grant funding, debt finance, community shares, funding platforms or new funding models
Community Energy Champion - The individual who has made an outstanding contribution to the advancement of the community energy sector over recent years
Community Energy Young Champion - An award to celebrate the increasing amount of creative, organised and motivated young people getting involved in community energy
Community Energy Photo Award - The original photo which best captures the essence of the community energy movement
The Judging Panel
Sonya Bedford
Jake Burnyeat
Jon Halle
...and more to be confirmed.
Previous winners
Community Renewable Energy Project Award
2018 winner: The Schools' Energy Cooperative Ltd [see case study]
2017 Winner: Gower Power [see case study]
Commendation: Energy Local [see case study]
2016 winner: Awel Aman Tawe [see case study]
Commendation: Ynni Anafon Energy
2015 winner: Chase Community Solar
Community Energy & Carbon Saving Award
2018 winner: C.H.E.E.S.E. Domestic energy loss surveys [see case study]
2017 winner: South East London Community Energy [see case study]
Commendation: Carbon Co-op [see case study]
2016 winner: Brighton & Hove Energy Services Cooperative [see case study]
2015 winner: Wey Valley Solar Schools Energy Co-operative
2018 winner: Suffolk Climate Change Partnership [see case study]
2017 winner: Oldham Council [see case study]
Commendation: Energise Barnsley - Barnsley Metropolitan Borough Council [see case study]
2016 winner: Plymouth City Council [see case study]
2015 winner: Cornwall Council
2018 winner: Energise Barnsley [see case study]
2017 winner: M&S Energy Society [see case study]
2016 winner: Cyd Ynni [see case study]
2015 winner: Saddleworth Community Hydro
Community Energy Finance Award
2018 winner: Mean Moor Wind Farm in partnership with Thrive Renewables [see case study]
2017 winner: Leapfrog Finance [see case study]
2016 winner: The Naturesave Trust and Naturesave Policies Ltd [see case study]
2015 winner: Ethex
Community Energy Champion
2018 winner: Jake Burnyeat [see case study]
2017 winner: Sonya Bedford [see case study]
2016 winner: Alistair Macpherson [see case study]
2015 winner: Jon Hallé and Adam Twine
Community Energy Young Champion
2018 winner: Jason Blanchard
Outstanding Contribution to Community Energy Award
2018 winner (by the suggestion of the judges): Energy4All (see case study)