How the Cabinet reshuffle could affect community energy
On Wednesday 15th September, Boris Johnson announced the result of his second cabinet reshuffle since becoming prime minister. Within this announcement, there are a number of changes to positions that are particularly relevant to the community energy sector. We hope some of the new ministers will be more disposed to listen to our arguments than their predecessors. We look forward to working with any member of the new cabinet. A full list of ministers and their responsibilities will be published here in due course.
CEE has made initial contact with several of the new cabinet ministers that we think may prove influential to the sector and all have been provided with this year's State of the Sector report and information about the recent inquiry into community energy by the Environmental Audit Committee. If your community energy project lies within or near the constituencies of any of these ministers, we urge you to please contact them and propose a visit to your community energy project. If you would like help with this please see our 'Harnessing our MPs' webpage or contact us directly.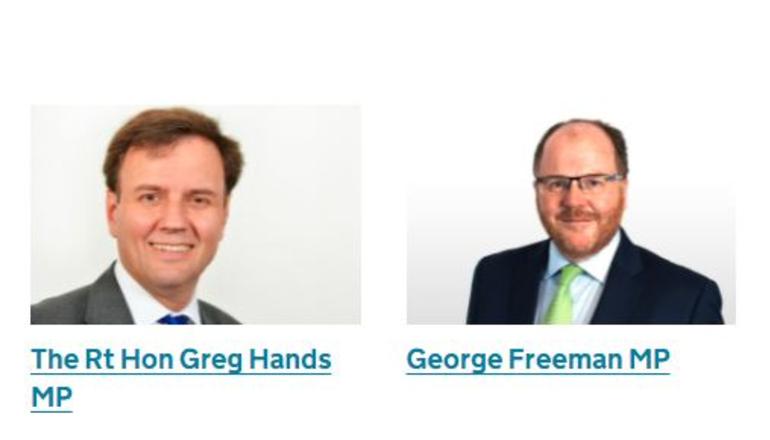 BEIS
The Secretary of State remains the Rt Hon Kwasi Kwarteng, MP. Anne-Marie Trevelyan, who was Minister for Energy and Clean Growth has become Sec of State for International Trade. Her successor is Greg Hands MP for Chelsea and Fulham. He is titled 'Minister of State' and his role is as yet undefined. We have invited him to visit a CE site already.
George Freeman joins him as the new Parliamentary Under Secretary of State (Minister for Science, Research and Innovation)
Paul Scully stays at BEIS. His role is Parliamentary Under Secretary of State (Minister for Small Business, Consumers and Labour Markets) and he is responsible for small business and enterprise (including access to finance), and local growth amongst other things.
Lee Rowley MP (North East Derbyshire) is unpaid Parliamentary Under Secretary of State (Minister for Business and Industry) and Government Whip, Lord Commissioner of HM Treasury, details of both roles still to be confirmed.
Lord Callanan continues in his role as Parliamentary Under Secretary of State (Minister for Business, Energy and Corporate Responsibility) with responsibilities including better regulation and regulatory reform, smart meters and smart systems, energy efficiency (local), fuel poverty, clean heat and rail supply.
Communities - Michael Gove MP
The Ministry of Housing, Communities and Local Government (MHCLG) has been retitled the Department for Levelling Up, Housing and Communities (DLUHC) and is now led by Michael Gove MP, previously at the Cabinet Office. He is also the Minister for Intergovernmental Relations (with the devolved governments). His job is to coordinate the Levelling Up agenda across government. A new Levelling Up Taskforce has been formed headed up by Andy Haldane, previously Bank of England Chief Economist. It is a pity Net Zero is not given such high priority.
He will be supported in the department by new Minister of State Kemi Badenoch MP and Neil O'Brien MP, who has been appointed Parliamentary Under Secretary of State. Other ministers remain in post.
Mr Gove said this was the defining mission of this government: "our relentless focus will be on delivering for those overlooked families and undervalued communities across the United Kingdom." I think community energy counts as an undervalued community.
We have written to Mr Gove welcoming him and reminding him of the Environmental Audit Committees recommendations for his department. He is also responsible for 'governance' so we have asked him if he will have oversight of joined-up, cross-government action on net zero, as well as 'levelling up'. We have asked for a meeting with him. We will be meeting officials in early October.
Treasury
The Rt Hon Simon Clarke, who in 2019 was named "Britain's Greenest MP" at the Climate Coalition's Green Heart Hero Awards, was appointed as the new Chief Secretary to the Treasury. He has special responsibility for Spending Reviews so we have written to him asking him to be receptive to any BEIS request for funding for community energy. When he was Exchequer Secretary to the Treasury in 2019/20 he set a 'net zero test' for any policy or spending his staff proposed to him. We hope to see this test, as well as his clear interest in net-zero and green development, being used and applied to all future policies funded by the treasury. He has been invited to visit a community energy site near his constituency of Middlesbrough South.
The Rt Hon Lucy Frazer QC MP is the new Financial Secretary to the Treasury responsible for much tax policy. We will be bringing up SITR and business rates with her prior to the Budget on October 27.
Helen Whately MP is the new Exchequer Secretary to the Treasury responsible for place-based economic strategy, Small Business Policy, and the net zero review into the costs of decarbonisation which we have had no luck in trying to influence so far!
Last updated 24/09/2021