There are 267 MPs (excluding Scottish MPs) who represent seats with community energy projects in them. That is a huge potential power-base if all of them can recognise the power and potential of our sector to enable the energy transition and bring benefit to their communities.
The Government's Net Zero Strategy, published on Tuesday 19 October 2020, mentioned community energy but contained no concrete plans or support measures for the sector, despite recommendations from the Environmental Audit Committee that it should. The British Energy Security Strategy of April 2022 did not rectify that omission. Neither have any actions of the recent government - indeed the reverse.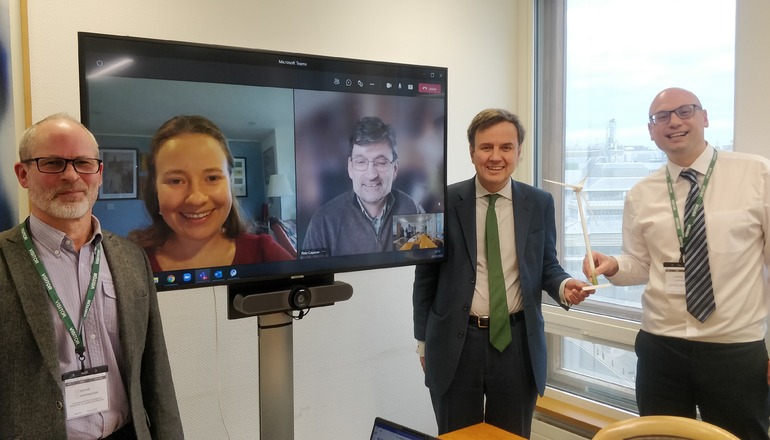 In March 2022 the Rural Community Energy Fund ended. In June 2022 the then Secretary of State for Business Energy and Industrial Strategy, Kwasi Kwarteng, told us that "the Government has decided not to provide further grant funding for community energy projects through a national Community Energy Fund at the present time." He directed us to the Energy Redress Fund, newly opened up to community businesses, and the UK-wide national growth funds - see our Funding Database. Sadly neither give direct access to feasibility and development funding that the Rural Community Energy Fund provided, which in the NW of England mobilised £69 of community investment for every £1 of government seed funding. The growth funds are mostly capital funds where £1 of grant creates £1 of project.
We ask you to write to your MP asking them to write to the new BEIS Secretary of State to urgently put in place support measures for community energy. See CEE's recent letter to the Secretary of State for detailed reasoning. (See suggested MP letter below)
Why harnessing our MPs is key.
Already, CE friendly MPs have helped us get questions asked and meet the minister. More than 300 support the Local Electricity Bill. An 'All Party Parliamentary Group on Community Energy' was recently formed. We have built profile and recognition in Westminster.
We argue in our Parliamentary Briefing (bit.ly/CEEbriefing) that community energy is essential to achieving net-zero and as such should be supported financially and in policy. Ministers are increasingly echoing our messaging: Kwasi Kwarteng in June 2020 - "If we're going to get to Net Zero we're going to need more local engagement" Alok Sharma to the Environmental Audit Committee - "We're going to have to take the public with us".
The Conservative government has a majority of 80 seats so Conservative MPs are especially important, particularly those in the so-called Red Wall of northern seats gained from Labour to whom the government listens carefully.
We are working to get community energy and people back at the centre of government energy policy. But for this to have any possibility of making the real change we need lots more community energy champions in parliament, ideally Conservative MPs. We need the photographs of the Secretary of State waving on a community energy rooftop soon.
We will write to all relevant ministers in the new government, committees, pressure groups and opposition spokespeople to get our community energy asks before them. We will work with partner organisations like the Energy Saving Trust, Green Alliance, NEA and the Climate Coalition to join up our campaigning.
Make your MP a community energy champion
MPs can only really respond to people and projects in their constituencies. So we are asking community energy people and organisations (you!) to connect with and make an ally of your MP, whatever their political complexion and whether you like them or not. Invite them to visit your project and to invest in it, to share-issues and project launches, take and share good pictures (with the aim of getting them featured prominently on their website, Facebook page, into their newsletters), tag them in social media, update them on progress, get them wanting to boast about you in Parliament. Also to do things for you - ask parliamentary questions, write to ministers. Then they will be much more willing to champion the sector or your project when we need them.
Please (and also mobilise supporters to) email, write to or tweet your MP, urging them to visit your project and champion community energy in the House; you can adapt our suggested letter to do this. Please explain why community energy is great - (benefits to your local community) - and, as a trusted intermediary, the key to engaging the wider community to actively participate in the urgent energy transition. Attach the CEE Parliamentary Briefing.
Your MP can be found at https://www.theyworkforyou.com/ (where you can also send them a message). Full contact details, and how MPs prefer to be addressed, is available at https://members.parliament.uk/members/Commons
Please write to local newspapers in the same vein.
Sample MP email/letter.
Please cut, paste, reword and personalise (including with local context and benefits of your project). MPs often forward your email to the Secretary of State's office so the less it looks like a standard campaign email the more powerful it will be.
If you are inviting your MP to a specific event or visit please refer to that near the top. Fridays and weekends are best or during parliamentary recesses.
Please check and edit, especially the 'I/We' at the top and above the bullets and fill in details where you see [square brackets]. (Don't forget to add your MP's name and to remove brackets!) If emailing please copy in d.law@communityenergyengland.org and send me any non-automatic responses. It may be useful to tweak according to which party you are contacting. Letters by post, especially hand-written, are rarer nowadays and also work well.
_____________________
Dear [MP name],
Community energy State of the Sector 2022 and supporting community climate action.
[I/we] write as [(a) volunteer(s) with/member of??] [?? name of project] in your constituency. [add more details including benefits delivered to constituents??]
Various ongoing issues further threaten community energy and the net zero transition. The Prime Minister has pledged to block onshore wind reversing the previous government's pledge to "unlock the potential of onshore wind by bringing consenting in line with other infrastructure". Also DEFRA's plans to redesignate 3b agricultural land would block expansion of solar, on most of the land that is most suitable for it and thwart government ambition to triple solar by 2030 and achieve 70GW by 2035.
Both measures run counter to Rishi Sunak's assertion to COP27 that "diversifying our energy supplies by investing in renewables is precisely the way to insure ourselves against the risks of energy dependency." and that it is morally and economically right to keep our net zero promises. Renewable energy is popular! Survation polling shows that "84% of those who backed the Tories at the last election urging the Government to use new wind and solar farms to cut electricity bills, and 81% of 2019 Tory voters supporting a renewable energy project in their area."
Community energy is also popular and essential to achieving net zero. Recent polling by Coop Energy showed 81% of people think the government should do more to enable community energy.
The community energy State of the Sector 2022 report shows that despite enduring its most challenging year ever, in 2021, the sector engaged 217,000+ local people, created 183 new FTE jobs, saw a 38% increase in the delivery of community-led energy efficiency/fuel poverty services (123 organisations involved), which saved bill-payers £3.35 million. The main report also contains Community Energy England's policy asks for the sector on p22-24. You can also read our very short Parliamentary Briefing at bit.ly/CEEbriefing
Notwithstanding recommendations from the Environmental Audit Committee that "Due to the urgency of the climate crisis and the vital roles communities will have to play in reaching net zero it is essential that a timely solution to support the long-term growth of community energy across the UK is found", the then Secretary of State at BEIS, Kwasi Kwarteng MP, "decided not to provide further grant funding for community energy projects through a national Community Energy Fund at the present time." 
This national fund was a specific recommendation of the Environmental Audit Committee to replace the successful £10 million Rural Community Energy Fund (RCEF), which ended on 31 March. This would be good value for money. The RCEF pipeline in the NW of England is mobilising community investment at the rate of £69 for every £1 of government project development grant funding! This also creates huge amounts of community, social, economic, public engagement in net zero benefit, many times that delivered by commercial net zero projects.
Community energy is also essential to mobilising people and communities to participate actively in the energy transition, without which it simply will not be possible to reach net zero, as the Climate Change Committee has repeatedly warned. Nearly two thirds of net zero measures depend on people's decisions and behaviours.
[I/We] ask that you please
Write to the Prime Minister and Communities and Business Secretaries urging that the government "unlock the potential of onshore wind by bringing consenting in line with other infrastructure" as pledged in the Growth Plan. Please publicly support either Simon Clarke's

amendment

NC90

to the Levelling-up and Regeneration Bill or the Lib Dem and Labour

equivalents, NC103 and NC114.
Write to the Prime Minister and the Environment Secretary urging that the government do not introduce a de facto ban on solar by their current plan to designating 3b agricultural land as 'best and most versatile'.
Write to the new BEIS Secretary of State and Ministers urging the importance and value of supporting community energy to grow and spread everywhere, including instituting a National Community Energy Fund and, immediately, amendments such as those to the Energy Bill proposed by Baroness Bennett (Amendments 237-238), in any upcoming energy legislation.

Visit our project soon an

d champion community energy (and our project) in the House of Commons.
Thank you in advance.
Best regards
[Name, postal address and postcode in the constituency - required for the MP to act on your behalf]
--------------
Sample tweet
Please do tweet from your organisation's account if possible. You can find MP Twitter handles here. Please ADD A PICTURE (essential - use one of your project ideally and 'tag' people in it to increase reach), personalise with relevant # and @. Please don't delete the dot at the beginning.
.@[MPtwitterhandle...] Please urge @BEISgovuk to open up #onshorewind and local supply. Please oppose any @DefraGovUK plan to block solar. See joint letter: https://communityenergyengland.org/files/document/661/1669637141_NGOlettertogovtonrenewablesNov2022.pdf
The new govt's Energy Bill must support CE to grow and spread. https://powerforpeople.org.uk/blog/energy-bill-committee-stage-briefing-amendments-237-amp-238
@Comm1nrgy