Reports and publications by Community Energy England.
Summary of the findings from the report written with Quantum Strategy and Technology.
View Document
Infographics focusing on monetary and social benefits gained from community energy schemes.
View Document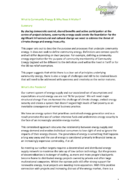 This paper by CEE board member Peter Capener suggests that whilst there is a clear set of principles underlying community energy, there is also a range of challenges and still to be resolved issues that will need to be addressed with openness and creativity as the sector matures.
View Document