Community Energy England and Community Energy Wales teamed up to deliver the Community Energy Awards 2016. The ceremony took place on 3rd September in Oxford, the same day as our conference.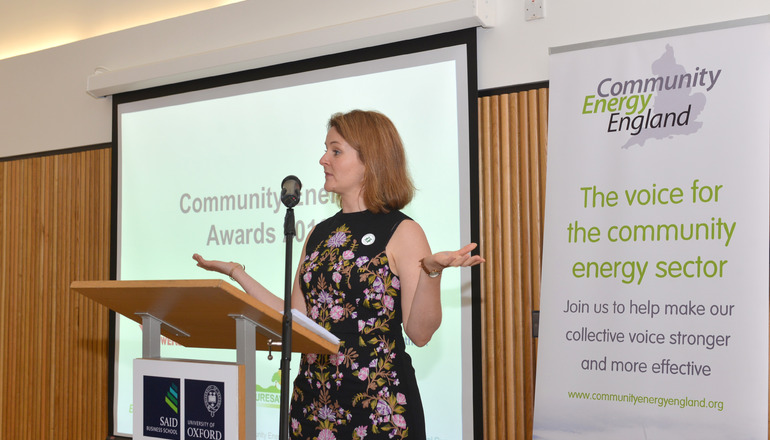 CEE CEO Emma Bridge opening the ceremony
Community Renewable Energy Project Award
The most commendable sustainable electricity generation project undertaken by a community group (sponsored by The Naturesave Trust and Insurance)
Winner: Awel Aman Tawe [see case study]
Commendation: Ynni Anafon Energy
Nominees:
Cilgwyn Community
Exeter Community Energy
Meadow Blue Community Energy
Plymouth Energy Community Renewables (PEC)
Southill Community Energy
Community Energy Saving Award
The community group which has undertaken the most inspiring energy conservation and/or management project
Winner: Brighton & Hove Energy Services Cooperative [see case study]
Nominees:
Sport in

DesFord
Sutton Coldfield Quaker Meeting
Westmill Sustainable Energy Trust (WeSET)
Local Authority Partner Award
The Local Authority which has done most to help local, community energy organisations through partnering, investing or other support (sponsored by Northern Powergrid)
Winner: Plymouth City Council [see case study]
Nominees:
Bristol City Council's Energy Service
Devon County Council
Energise Barnsley
Swansea City and County Council
Collaboration Award
The most commendable collaboration between community and commercial / public / third sector partners
Winner: Cyd Ynni [see case study]
Nominees:
Energy Saving Trust / Community Energy Hub
Harbury Energy Initiative
Repower Balcombe
Rosehill and Iffley Low Carbon
South West Water & Wadebridge Renewable Energy Network (SWW & WREN)
Community Energy Funding Award
The community group and its funders and advisers, which have achieved the most inspiring results in bringing investment into the sector
Winner: The Naturesave Trust and Naturesave Policies Ltd [see case study]
Nominees:
Energise Barnsley
Marks and Spencer
Mongoose Energy
Community Energy Champion
The individual who has done most to advance the community energy sector over recent years (sponsored by Scottish and Southern Energy)
Winner: Alistair Macpherson [see case study]
We received such a high number and calibre of deserving nominations which further demonstrated the resilience and motivation that exists across the country to push the community energy ethos forward.
The difficult task of deciding on the winners laid in the hands of the following judges:
Lord Bourne of Aberystwyth
Chris Blake, Green Valleys CIC and Community Energy Wales
Sir Ed Davey
Ramsay Dunning, Cooperative Energy
Jon Halle, 2015 Community Energy Champion joint winner
Merlin Hyman, RegenSW
Anne-Claire Leydier, Northern Powergrid
Anna Watson, Friends of the Earth
During the ceremony, we saw inspiring and insightful presentations from Leonie Cooper MP and Sir Ed Davey.