Community Energy England and Community Energy Wales announced the winners of the 2018 Community Energy Awards at the Arnolfini, Bristol on Friday 19 October. The awards were sponsored by Bristol City Council and Co-op Energy.
The winners of the Community Energy & Carbon Saving Award, which looks for the community group which has undertaken the most inspiring energy conservation and/or management project, was the C.H.E.E.S.E Project - Cold Homes Energy Efficiency Survey Experts.
C.H.E.E.S.E is a Bristol-based not for profit community enterprise that aims to reduced domestic heat loss at low cost through the use of thermal imaging surveys. The aims of the project are to assist people in fuel poverty to have warmer, healthier homes and to reduce the carbon footprint of homes by increasing their energy efficiency.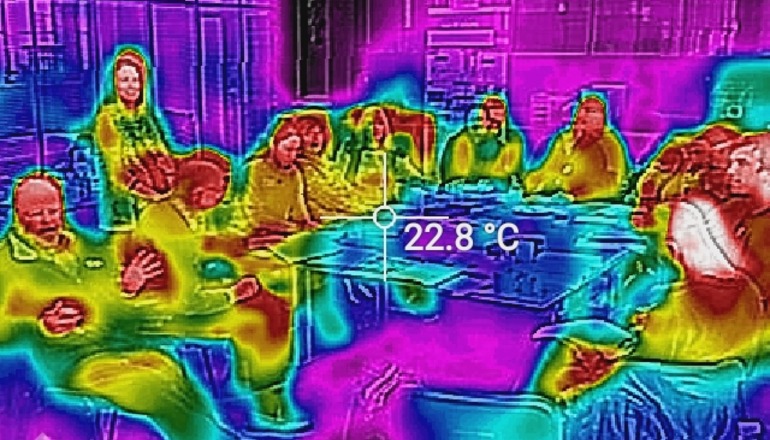 Since 2015, working over three pilot winter surveys running from November to March, the project has successfully completed the development and refinement of a unique, low-cost, internal thermal survey process for homes, together with bespoke software based on miniature FLIR thermal cameras, iPhones, and blower-doors. C.H.E.E.S.E.'s capacity has expanded through each season, from 26, to 56, to 91, with plans to further increase its reach.
To date, the C.H.E.E.S.E project has carried out 172 internal surveys, including 56 free surveys to low-income households. Householders who have had their properties surveyed report that it has been a revelation, with one disabled council tenant commenting that the thermal images of their home were "mind-boggling. It says it all. It opens your eyes to everything". C.H.E.E.S.E uses thermal imaging to identify heat loss from draughts and poor insulation, and can suggest remedies, many of which are cheap and easy to implement, and may be suitable for tenants in rented accommodation.
Follow-up surveys of 49 surveyed households confirmed that 73% had already carried out low-cost improvements; while 94% of those surveyed stated that they had plans to carry out further retrofitting, often claiming that the surveys encouraged them to do more. The impact of enabling warmer homes through reduction of energy loss means that more rooms can be adequately heated for the same cost. There is also an indirect carbon saving through better health and less use of NHS resources for treatment.
The project has been developed thanks to the passionate commitment to environmental and social justice of highly-skilled volunteers. The techniques used by the C.H.E.E.S.E project have been adapted from the pioneering work of one of its members, Brian Harper, who was an early developer of thermal imaging. In conjunction with Brian, all the new survey protocol, software and hardware development, as well as management, has been carried out pro bono with thousands of hours of effort by Jeremy Birch (Technical Director and software developer) and Michael Andrews (Managing Director and former BBC TV executive producer). In addition, several of C.H.E.E.S.E's surveyors do not claim their entitled fee for surveys. The C.H.E.E.S.E project is a great example of how volunteer commitment and drive can reduce wasted energy and improve the lives and health of homeowners.
Ahead of the ceremony in Bristol, an expert panel of judges selected winners in each of the seven categories following an open application process. Mark Billsborough, Head of Renewables and Hedging at Co-op Energy and one of the Community Energy Awards 2018 judging panel, said: "It's been an honour to judge the Community Energy Awards 2018. I can honestly say that making the final decisions was incredibly difficult. From domestic heat loss surveys to creating large-scale wind farms owned by the community, it's clear that the impact of groups across England and Wales means more people are able to access the benefits of community energy and make a change for the better in our bid to become a more energy efficient society."