The 2017 Community Energy Awards, an evening of celebration and recognition of the hard work of the community energy sector this past year, took place in central London on the evening of 1st November. We invited the community energy sector to a soiree in London's Living Room at City Hall.
The evening began with a drinks reception generously sponsored by Energy Saving Trust and was held together with Leonie Cooper - Chair of the London Assembly Environment Committee being the MC. We heard presentations from Polly Billington about her work with UK100 and David Powell from the New Economics Foundation.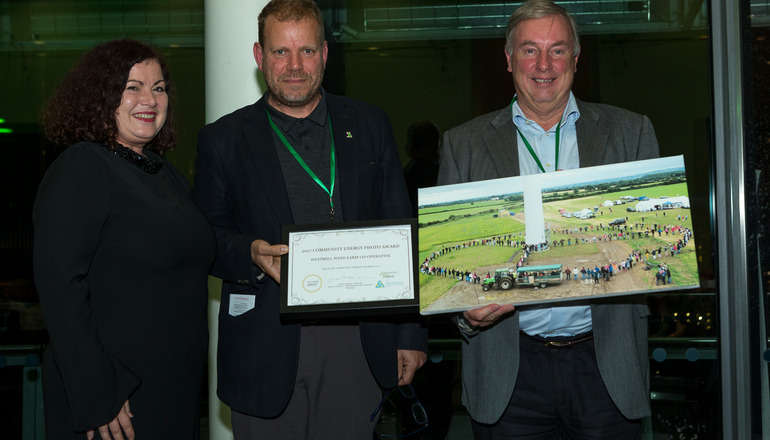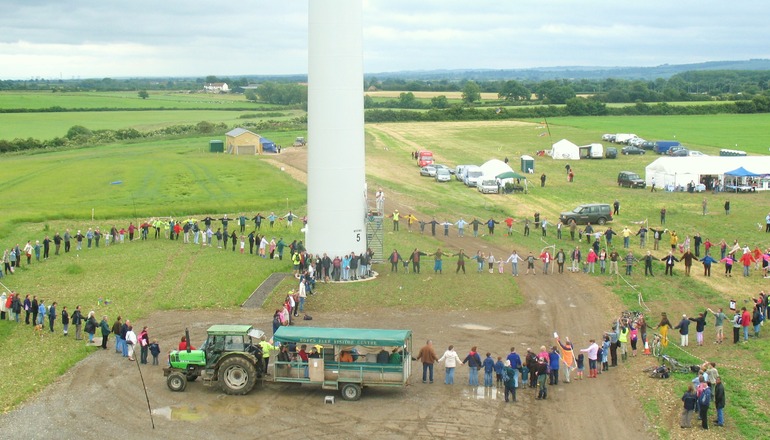 All photos are on Facebook and Google Drive, feel free to use for promotional purposes. Follow the conversation on Twitter.
Below are the winners along with the shortlisted entries for 2017. Judges found it hard to pass judgement on all of these worthy and impressive projects, as such some awards saw nominations being highly commended for exceptional levels of innovation and community benefit.
Community Renewable Energy Project Award - Sponsored by The Renewable Energy Association
The most commendable sustainable electricity generation project undertaken by a community group.
Short-listed entries:
Gower Power - Winner [see case study]
Energy Local – Highly Commended [see case study]
High Winds Community Energy Society
Sandford Hydro
The Small Wind Co-operative
Ynni Ogwen and Ynni Padarn Peris
Winner profile:
Gower Regeneration is Wales' first community-owned solar farm. It will provide clean energy for the demands of 300 hundred houses whilst telling the story of our energy transition for this generation and generations to come. They faced an incredibly tight timescale to develop this project which consists of 3568 solar panels that will save over 11,500 tonnes of carbon emissions over its lifetime with an estimated £500k+ community benefit being generated over the next 30 years.
Highly Commended project profile:
Energy Local is an innovative local energy project that gets communities working together to reduce their bills and increase the income for local renewable energy generators - providing them with much-needed stability in an unpredictable policy environment. At its heart is the desire, shared by so many in the community energy world, to use renewable energy to directly benefit the lives of communities. Stated by one judge as potentially a "game changer" and by another as a project that "could be the holy grail of what community energy could be".
2016 winner: Awel Aman Tawe [see case study] (2016 award sponsored by Naturesave)

2016 Commendation: Ynni Anafon Energy
Community Energy Saving Award
The community group which has undertaken the most inspiring energy conservation and/or management project.
Short-listed entries:
Winner profile:
SELCE has developed multiple services to enable the whole community to benefit from their expert advice, including energy cafes, workshops, training, the 'Watt's About You?' energy information roadshow, Parent Power (a parent-focused project), and champion programmes. They have innovated new ways of working, but also worked in a strategic, reflective way by undertaking research
Highly Commended project profile:
Carbon Co-op and URBED developed My Home Energy Planner is a simple, replicable service that enables householders to plan and make retrofit decisions about their home. Driven by a modular, open source tool it is being replicated by other community energy groups. This tool is financially sustainable, replicable and proven to be effective.
2016 winner: Brighton & Hove Energy Services Cooperative [see case study]
2015 winner: Wey Valley Solar Schools Energy Co-operative
Local Authority Award
The Local Authority which has done most to help local, community energy organisations through partnering, investing or other support.
Short-listed entries:
Oldham Council - Winner [see case study]
Energise Barnsley - Barnsley Metropolitan Borough Council – Highly commended [see case study]
Reading Borough Council
West Oxfordshire District Council
West Suffolk Councils
Winner profile:
Oldham Council both supports its local borough community energy groups and leads at a regional, national and international level to build capacity and innovation in the sector, working with a strong partnership of key organisations across the UK and Europe aiming to deliver long-term resilience and sustainability for community energy.
Highly Commended project profile:
Energise Barnsley is a nationally significant project which has been pioneered by Barnsley Metropolitan Borough Council. It was highly commended for the high level of complexity, innovation and integration into the lives of the community. It has overcome major financial obstacles to install solar PV on council tenant houses and develop a 7MW battery storage standalone facility.
2016 winner: Plymouth City Council [see case study] (2016 award sponsored by Northern Powergrid)
2015 winner: Cornwall Council
Collaboration Award - Sponsored by Northern Powergrid
The most commendable collaboration between community and commercial / public / third sector partners.
Short-listed entries:
M&S Energy Society - Winner [see case study]
CAPE
Co-op Energy
Edinburgh Community Solar Cooperative
Lawrence Western Solar Farm
Winner profile:
M&S Energy Society, a collaboration between Energy4All, Joju Solar and M&S Energy, is a commercial relationship with a difference. It has a community feel to it. It is built on a shared ethos, trust and mutual respect and support which has culminated in the aspiration to revive community-funded social housing and deliver more community funded projects with commercial occupiers.
2016 winner: Cyd Ynni [see case study]
2015 winner: Saddleworth Community Hydro
Community Energy Finance Award
The community group and its funders and advisers, which have achieved the most inspiring results in bringing investment into the sector.
Short-listed entries:
Leapfrog Finance - Winner [see case study]
Grimsby Community Energy
Mean Moor Community Wind Farm
Mongoose Energy
Robert Owen Community Banking Fund
Winner profile:
As impact investors, Leapfrog Finance seek to maximise the social and environmental benefit achieved by the projects they fund. This is part of how they have created the sector's most successful financial platform which has helped to prepare the ground for other financing organisations. On top of this, they have produced many valuable resources which have undoubtedly helped the sector to grow.
2016 winner: The Naturesave Trust and Naturesave Policies Ltd [see case study]
2015 winner: Ethex
Community Energy Champion - sponsored by Scottish and Southern Electricity Networks
The individual who has made an outstanding contribution to the advancement of the community energy sector over recent years.
The unreleased shortlist is long and full of champions in their own right, but the 2017 Community Energy Campion is Sonya Bedford [see case study].
Winner profile:
Sonya's commitment, drive and passion for community energy is second to none. Genuinely believing that community energy can take the UK to energy independence. She will do whatever she can to make sure projects continue to come forward and progress, even if it means never having any spare time!
Sonya works professionally in the sector but is involved in various projects outside of her work commitments. She has supported over 25 community energy groups and is responsible for establishing the UK's first grid consortium.
Although currently studying for an MSc in Renewable Energy and sitting on the board of five community energy groups, she still finds time to attend festivals, schools and local groups advising on renewable energy and sustainable living. And on top of this, she is trained to perform high altitude rescue of maintenance personnel from wind turbines!
2016 winner: Alistair Macpherson [see case study] (2016 award sponsored by Scottish and Southern Energy Power Distribution)
2015 winner: Jon Hallé and Adam Twine
New for 2017 - Community Energy Photo Award
This is the first year we have had a photo award. Images were submitted that captured the essence of community energy. The shortlist was put to a public online vote which took place in the lead up to the ceremony. Photo likes on Facebook and Twitter were combined with a survey. We were astounded at the response it received. Over 850 votes were cast!
See the shortlist and winner here.
This year the awards were judged by a panel of esteemed industry experts including…
Patrick Allcorn - Head of Local Energy, BEIS
Graham Ayling- Head of Foundation, Energy Saving Trust
Chris Blake - Chair of Community Energy Wales
Leonie Cooper - Chair of the London Assembly Environment Committee
Alistair Macpherson - CEO Plymouth Energy Community & 2016 Community Energy Champion
Jennifer Pride - Head of Renewable Energy, Welsh Government
Afsheen Rashid - Chair of Community Energy England
Nina Skorupska - CEO at Renewable Energy Association
See more detailed information on the judges here.
Congratulations to this year's winners who are now immortalised in the Community Energy Hall of Fame!